February 24th, 2012
---
08:04 pm
I don't know what's more absurd; the fact that I logged into Livejournal today or the fact that my sister wrote in hers two days ago. That's eerie. My thoughts will forever be preserved on this website. Like canned pickles. No, like brains in a jar of formaldehyde on a dusty shelf.
Current Location: Los Angeles
Current Mood:
nostalgic

June 7th, 2005
---
11:43 pm
The day arrived and passed, I am all done with college. All I can say is it went by fast, and now it is time to make my next move. With time, Goodbye Chicago and Hello California.




"An Ocean's gargled vomit on the shore, Los Angeles I'm yours."

I do believe this will be my last entry. The past four years of my life are summed up in this journal, and with this chapter of my life coming to an end, I will be closing the book on this journal as well.


(

GoodnightMyFriendsCollapse

)



Best Wishes,
*Larissa*

April 22nd, 2005
---
05:30 pm
Lollapalooza has decided not to tour but instead just hold a two day festival in my city!

Chicago
July 23-24


Pixies
Widespread Panic
Weezer
The Killers
Dinosaur Jr.
Cake
Dashboard Confessional
The Arcade Fire
Billy Idol
Death Cab For Cutie
Digable Planets
Liz Phair
G. Love
Blonde Redhead
The Black Keys
Kasabian
Kaiser Chiefs
The Bravery
The Walkmen
Louis XIV
Sound Tribe Sector 9
Z-Trip
Los Amigos Invisibles
M83
The Dandy Warhols
Tegan and Sara
VHS or Beta
Brian Jonestown Massacre (Watch DIG now!)
Soulive
Ambulance LTD
Shout Out Louds
Blue Merle
The Warloks
deSol
World Leader Pretend
The Redwalls
The Changes


others on 5 stages.

March 18th, 2005
---
06:19 pm
I just had my first REAL JOB interview....You know the type of job you get after you graduate and enter the "real world." Apparently I've been living in a fake world for the past 21 years. It was for the New Media Assistant position at Universal Music out in California. But I do believe it went very well. I feel good about it, and now I have to send in samples of my work. So I suppose all I can do now is wait for another call in a couple of weeks.....I'm so glad that is out of the way, I was nervous as shit!

Wait, wait wait,
This is me waiting....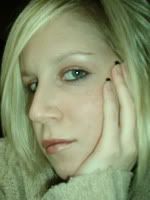 Time to bring on the apple martinis........yum.

March 13th, 2005
---
08:09 pm
I don't need make-up or these highlights in my hair. I don't need to go through a daily facial cleansing routine or even take as many showers as I do. I don't need the pointy toed boots or fitted blazers with broaches. I just do it, out of habit. I'm not high-maintenance, I actually would prefer to be simple. I was asked recently, over lunch, what my plan was (mind you this was asked by a person who knows, or pretends to know, exactly what he is going to do in life).... I gave the "I know what I want to be" answer, but I couldn't fill in exactly how I plan to get from point A to point B, C, and D. I don't think I need a plan. I think life is about opportunities, and from those opportunities life unfolds. There are a lot of things I want to try, and sometimes you don't need a plan to just do what your heart desires. It's okay to dream about waking up in your bathing suite and keeping your hair unkept. Waiting tables to make enough money for ends meet; where your job is left behind until you pick up the next shift. blue water, white sand, green sea grass. Maybe that is a part of my plan...to take a break before I start planning. I could give it a try.
Current Music: flower in rain - stephen kellogg

March 5th, 2005
---
01:09 pm
I feel comfortable. I feel content. I love what I get to do everyday....Every single weekend consists of shows, music, and new people. New interaction. Perks. I always wanted to be the one who knew those people. I know them now. I'm not lucky, I just did something about it. I worked for it. Though I haven't gotten to do everything I've wanted to do yet, if I were to die tomorrow, I would die content. Moving to Chicago was the best decision I have ever made. Leaving Kalamazoo was the healthiest decision I ever made. This is my home. And now I'm playing a part in someone else's world.
Current Music: The Decemberists

February 24th, 2005
---
05:48 pm
hello. much going on. one big mind fuck. put it off untill tomorrow. try and take care of your heart. discover then resolve. goodbye.



xo

February 16th, 2005
---
10:11 pm - he's got a magic stick in his candy shop
Dear Chicago,
Please warm up soon.

i've learned to crochet, how cliche. alright, that should be a song lyric. I'm so sad...while taking a break in a michigan, 50 Cent visited the office on Friday and I missed it. I really wanted to add a picture of him and I next to the one of me and Slim Thug. I look like such a joke standing next to big black rappers. I sent resumes out. That was productive. will anything come of that? who knows. I'm just waiting for my time and moment. I can't go see Keane tomorrow night. So I'm roadtripping with Marita to Milwaukee on Sunday to help her out at the Zutton/Redwall/Keane show. I've never been to Wisconsin, so this is pretty exciting to me. I hear they have really good cheese up there, and being the rat that I am, you know how much I love cheese. This journal once full of honest thoughts has become one full of aimless actions. sorry, this is the way it will stay, at least until my heart is broken.

p.s. mike, visit me always

January 27th, 2005
---
01:50 pm - I'm being like Craig and Jim
Using song names, spell out your name: Love Ridden, Amanda's Dream, Road Trippin, Imagine, Secret, Six Different Ways, Aveda
2) Have you ever had a song written about you? nope
3) What songs make you cry? El Shaddai
4) What songs make you happy? Jack Johnson songs
5) What do you like to listen to before bed? Teitur or Coldplay
.A.P.P.E.A.R.A.N.C.E.
height: 5'6"
hair color: Very Blonde right now
skin color: White
eye color: Green
tattoos: on my back
peircings: 9 of them
R.I.G.H.T.N.O.W.
WHAT COLOR PANTS ARE YOU WEARING?: Jeans
WHAT TASTE IS IN YOUR MOUTH?: Diet Coke
WHAT'S THE WEATHER LIKE?: Soooo Sunny
HOW ARE YOU?: Ok
D.O.Y.O.U.
GET MOTION SICKNESS?: No
HAVE ANY BAD HABITS?: who cares
GET ALONG WITH YOUR PARENTS?: yes
LIKE TO DRIVE?: I enjoy it, since I don't do it often
F.A.V.O.R.I.T.E.S.
TV SHOW: Life As We Know It, American Dreams, and all the MTV, VH1 Shit I can get
NON-ALCOHOLIC DRINK: Wild Cherry Pepsi
ALCOHOLIC DRINK: Apple Martinis
THING TO DO ON THE WEEKEND: Drink, Relax, and Have a good time
BAND OR GROUP: right now, The Killers
H.A.V.E.Y.O.U.
BROKEN THE LAW: yea, who hasn't?
RAN AWAY FROM HOME: I did once when I was little...sat on the corner of the street with my umbrella and backpack packed with photos
SNUCK OUT OF THE HOUSE: I don't think I ever have "snuck"
EVER GONE SKINNY DIPPING: yes I grew up doing that at the beach!
MADE A PRANK PHONE CALL: yes
EVER TIPPED OVER A PORT-O-POTTY: nope
USED YOUR PARENTS' CREDIT CARD BEFORE: yea w/ permission
SKIPPED SCHOOL BEFORE: yea
FELL ASLEEP IN THE SHOWER/BATH: uh, no
BEEN IN A SCHOOL PLAY: no
LET A FRIEND CRY ON YOUR SHOULDER: yes
L.O.V.E.
GIRLFRIEND: no, boyfriend: yes
CHILDREN: I think I have a few running around here and there
R.A.N.D.O.M.
DO YOU HAVE A JOB?: yea and i don't get paid for it, psh!
YOUR CD PLAYER HAS IN IT RIGHT NOW: I'm an iPod Girl
IF YOU WERE A CRAYON, WHAT COLOR WOULD YOU BE?: Bright Green
W.H.A.T.W.A.S.T.H.E.L.A.S.T.
E-MAIL YOU GOT: from Jackie Finn...asking if she could come to Chicago to visit
TV PROGRAM YOU WATCHED: Conan O'Brian rerun w/ Dave Navarro
MOVIE YOU SAW AT THE THEATER: Racing Stripes w/ Addy :)